SUP MA PEOPLE
Sorry for the delayed post.
THIS IS MY LIST OF THE TOP 10 OLDIE BUT GOLDIES OF THE VIDEO GAME INDUSTRY.
Writers note. : this is before the ps2 era otherwise it would just be all ps2 (duh). this is list is no way in order so if one of your favourite games are in lower ranks, don't get your pitchforks nor your shot guns.
10. Starfox 64
Everyone loves Starfox, the people who haven't played Starfox love it so i ask you one good reason why you wouldn't choose it. While u answer DO A BARREL ROLE.






9. Doom
Boy OH boy this one rocked me to my core when i bought it. Fresh out of the box. Until this game no one knew hell had that much weaponry neither did they know it could be SO MUCH FUN.
8. Super Mario 64
Another one of Nintendo's amazing games that blew me visually and gameplay wise. I just don't have much to say about this except ITS A ME-A MARIO
7. SNES Donkey kong country
For the time this game melted my eyes with its graphics. This was the first game (correct me if I am wrong) that had a 2.5D aim. ALSO ITS SO GOOOOOOOOOOD
6. Banjo Kazooie
This game had everything going on for itself. No joke once i finished this game i cried for it being over. With its tight controls, awesome gameplay and soothing music this definitely earned a spot in my list. The only thing that didn't grab my attention was the story.(again my opinion, i am not thrashing it)
5. Legend of Zelda Ocarina of Time
How can there be a list of good old games without this Legend-ary game. If you wanna play this games on drugs it will still be as good. All the Legend of Zelda games have always had a special place in my heart just for the sheer fact that in this world, that kind of adventure and exploration cannot be found anymore. I would say that Witcher is the only correct step in the future of adventure games, Witcher 3 that is. Anyhoo Can u even go wrong without the ocarina.
4. Legend of Zelda Majora's Mask
Now I haven't had the chance to play the game so I dont know much about it so sorry that i can't provide a good thought of the game. I know that there are 23 (correct me if i am wrong in the comments) masks that give Link the ability to transform temporarily.
This is my first game that i ever, EVER played. I have played the shit out of this game and each moment is cherished. This is just a Whiff of nostalgia in my eyes. when i talk about this Mario game, I basically talk about all. RIP
Shigeru Miyamoto you changed my childhood and you are the
reason I am in this vast world of gaming.
2. Street Fighter for the SNES
I don't take this game seriously but when I would old-school LAN Party this shit.
My friends and me would have blast shouryokening or hadoukening each other.
ROLL IN THE MUSIC CAUSE I GOT THE NUMBER ONE GAME FOR Y'ALL
its
1. Conkers Bad Fur Day
Thats right this game is the second RAREWARE game and damn do i love this game.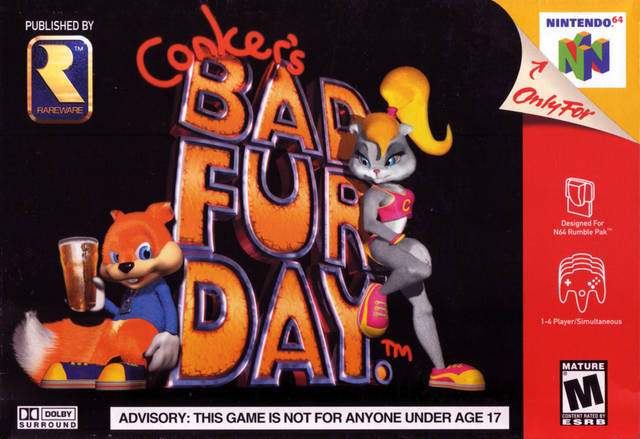 This game has it all.
Comedy= check
Potty mouth= check
good gameplay = check
music that blows your frigging mind out = check
Overall best platformer.
thank you for reading please comment for suggestions